BrazilJS Weekly #224 - A-Frame, APIs estranhas e criador do Preact no Google
E chegamos na última edição da BrazilJS Weekly em vídeo de 2017! Desta vez os meninos falam sobre o A-Frame, APIs estranhas, sobre o criador do Preact indo pro Google e muito mais. Nos vemos em 2018!
Em vídeo
https://youtu.be/4lAt6GNGJMY
Novidades
Salva de la Puente - A-Frame 101
WebVR coloca o poder imersivo da realidade virtual a apenas uma URL longe dos usuários web. Mas e sobre os desenvolvedores web, artistas digitais e criadores de conteúdo? Para eles, a Mozilla tem orgulho de suportar o A-Frame, um framework JavaScript extensível para criar experiências de VR de qualidade na Web. Indicado por @braziljs
O DOM não é conhecido pelo seu senso de design ou ergonomia, desde, bem, nunca. Nesta palestra Mike cobre um punhado de APIs DOM do navegador que podem ficar bastante estranhas.
Indicado por @braziljs
Criador do Preact vai para o Google
Jason Miller, criador do Preact, anunciou no Twitter que está indo trabalhar no Google, especificamente no time do Chrome.
Indicado por @jaydson
Uma pesquisa completa sobre o estado do Javascript em 2017.
Indicado por @yanmagale
Natal BrazilJS & Alura: 10% OFF
Em 2018 a BrazilJS e a Alura se tornam ainda mais parceiras, e para comemorar, nada melhor que um bom presente de Natal: 10% de desconto na inscrição na plataforma de cursos Alura!
Indicado por @braziljs
Cartoon da semana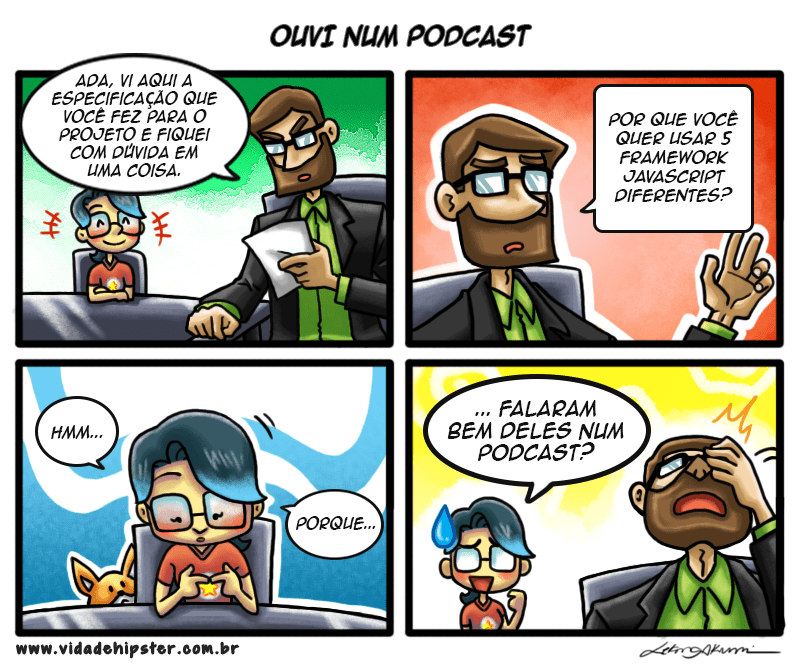 Cartoon via Hipster.Tech
Artigos
Developing for TVs with React-TV
Artigo em inglês sobre o React-TV. Um ecossistema de reactjs para TVs, desde react renderer até o packager para TVs.
Indicado por @raphamorim
A plan to rescue the Web from the Internet
New article published by André Staltz as a continuation to his previous blog post about the Web dying from 2014 onwards.
Indicado por @romuloalves
How one methodology allowed me to create a great design system from scratch and made me a better developer, with principles of componentization, hierarchies and reuses of code.
Indicado por @danilowoz
Everything You Need To Know About Parcel: The Blazing Fast Web App Bundler
Uma opção de bundler com "zero configuration", que já vem com suporte a HTML, JS, CSS, entre outros.
Indicado por @ruanmer